Ultimate Omega-D3 Supplements by Nordic Naturals
by Chante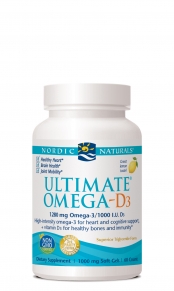 In an attempt to eat healthier, I jumped at the chance to try
Nordic Naturals Ultimate Omega-D3
capsules. Over the years I've inched closer and closer to being a natural Mama. In those years, I've learned about the role omega 3 fatty acids and vitamin D plays in a mothers' body as well as in her baby's.
Nordic Naturals has been the industry's best-selling producer of health supplements based on a nationwide survey of health food stores. They've won award after award for their quality supplements and social responsibility. You may not have heard of Nordic Naturals before, but their sustainable fishing practices have been setting standards for Omega excellence while producing great supplements that people love since 1995! The Ultimate Omega-D3 supplement contains exceptionally high levels of the omega-3 essential fatty acids EPA & DHA. It is made with purified deep sea fish oil from anchovies & sardines and is gluten & milk derivative free with no artificial color or flavors. The vitamin D3 is the natural form of vitamin D that is produced by your body. Ultimate Omega D3 is Nordic Naturals' most popular product.
I wanted to try the Ultimate Omega-D3 supplements because Omega 3 fatty acids are:


Of utmost importance to your brain including the developing brain of a fetus and baby


famous for aiding vision, cognition, weight management and cardiovascular function


known to help with language and learning skills as well as attention and focus


fights against diseases such as diabetes, asthma, ADHD, Autism and Asperger's


Ultimate Omega D-3 Supplements also contain Vitamin D that:


helps your body take in calcium


contributes to bone health


regulates your immune and neuromuscular systems


helps maintain regular moods and sleep rhythms


When you're pregnant, your doctor may tell you that eating fish is good for you, but to watch out for the other metals that you could consume if you eat too much. The metals prevent proper development of a fetus. By taking a supplement, like
Nordic Naturals Ultimate Omega-D3
, a pregnant woman could get the best of both worlds. Nordic Naturals conducts independent lab tests for heavy metals, dioxins & PCBs to guarantee purity, freshness and quality. Her doctor will be happy she's staying away from heavy metals found in fish and her baby will get the nutrient dense fatty acids that are essential for healthy growth.
When I was pregnant with my children, I didn't know about Nordic Naturals, but I wish I had. I was taking a prenatal vitamin, but it didn't pay special attention to Omega 3 fatty acids. It would have put my mind at ease to include these supplements in my daily diet.
Nordic Naturals is inviting everyone to enter their
What's Essential To You? contest
by filling out the form on the website. You can also enter right on their
Facebook Fan Page
if you'd like. Just grab a picture from your computer that visually explains what's essential to you and add a written explanation with it. When you enter you can win:
The GRAND PRIZE - a trip to California with all the trimmings!


Second Place - Canon Camera and a year's supply of Omega oils


Third Place - a year's supply of Nordic Naturals Omega oils


The contest ends on April 30 so enter now by clicking on the picture below!